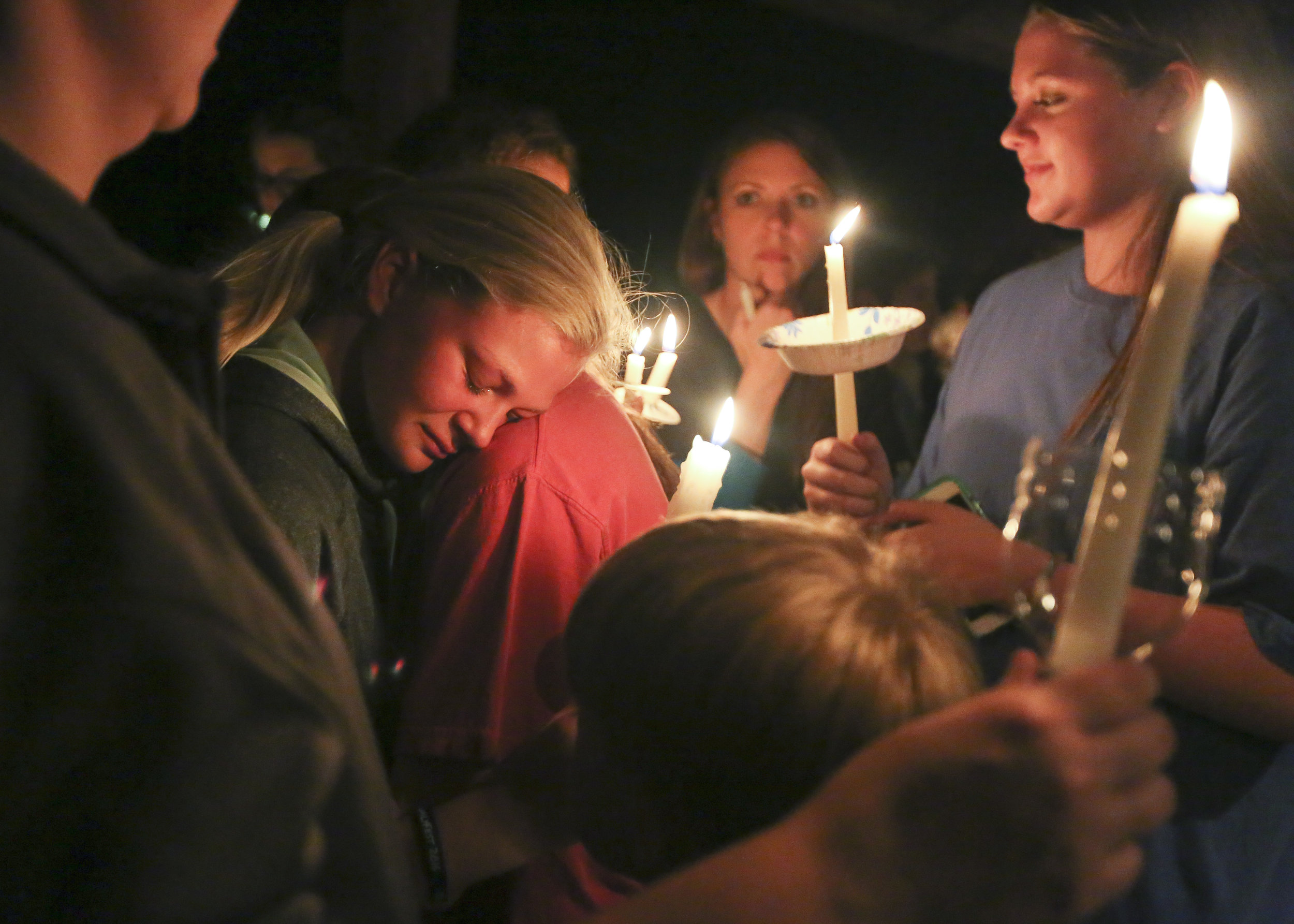 Beautician B.J. Linville puts the final touches on the hairdo of Zella Schooler, 100, at Windsor Care Nursing Home in Mt Sterling, Kentucky.
Homeowner Michael Schell walks into his destroyed home with his sister, Theresa Wagoner, just after a EF1 tornado touched down on Gatlin Road in Ardmore, Ala., on Monday March 19, 2018. Schell and his wife were not home at the time and were not injured.
Alexis White, 6, left, and Mary Hyatt Adams, 6, have different reactions as they look at a red-tailed boa constrictor during the Echoes and Howls program presented by the Natural History Educational Company at Decatur Public Library on June 13, 2018.
A whippet jumps into a pool at the Ultimate Air Dog challenge during the United Kennel Club Premier dog show at the Kalamazoo Fairgrounds in Kalamazoo, Michigan.
Staff Sgt. Travis Lopeman, of Fayetville, Tenn., hugs his children, Titus, 5, and Annalese, 8, and wife Tara Lopeman after being stationed in Kuwait since August at the Huntsville International Airport on June 6, 2018. Along with Lopeman, about 115 remaining soldiers from the Alabama National Guard's 115th Expeditionary Signal Battalion were welcomed home.
Spur attempts to join a group photo at Celebration Arena in Priceville, Alabama.
A semi truck heading north near 3622 U.S. 31 hit a pole and landed on its side in Decatur, Alabama.
Pauline Shipinski sings karaoke during A Night to Shine prom at Central Baptist in Decatur on February 9,
Who-ville children occupy their time backstage before performing in "Who-ville on Ice" at Point Mallard Ice Complex in Decatur, Alabama.
Jeanie Phelps puts sister Carol Ann Cole to rest at Maple Grove Cementery in Kalamazoo, Michigan. More than 34 years after Carol Ann's disappearance, family and friends say goodbye. In March, investigators announced that a body found in the northern Louisiana woods in 1981, known for years only as "Bossier Doe," was identified as Carol Ann.
Alice Haughaboo, 8, reaches for water dripping from a rock in the Kinlock Shelter at William B. Bankhead National Forest during Wild South's Wild Wednesday hiking excursion on June 28, 2017.
Ardmore High School graduates take selfies in Ardmore, Alabama.
A scene of yellow during autumn in Decatur, Ala.
Christian Randolph explores the sand dunes at Silver Lake in Hart, Michigan.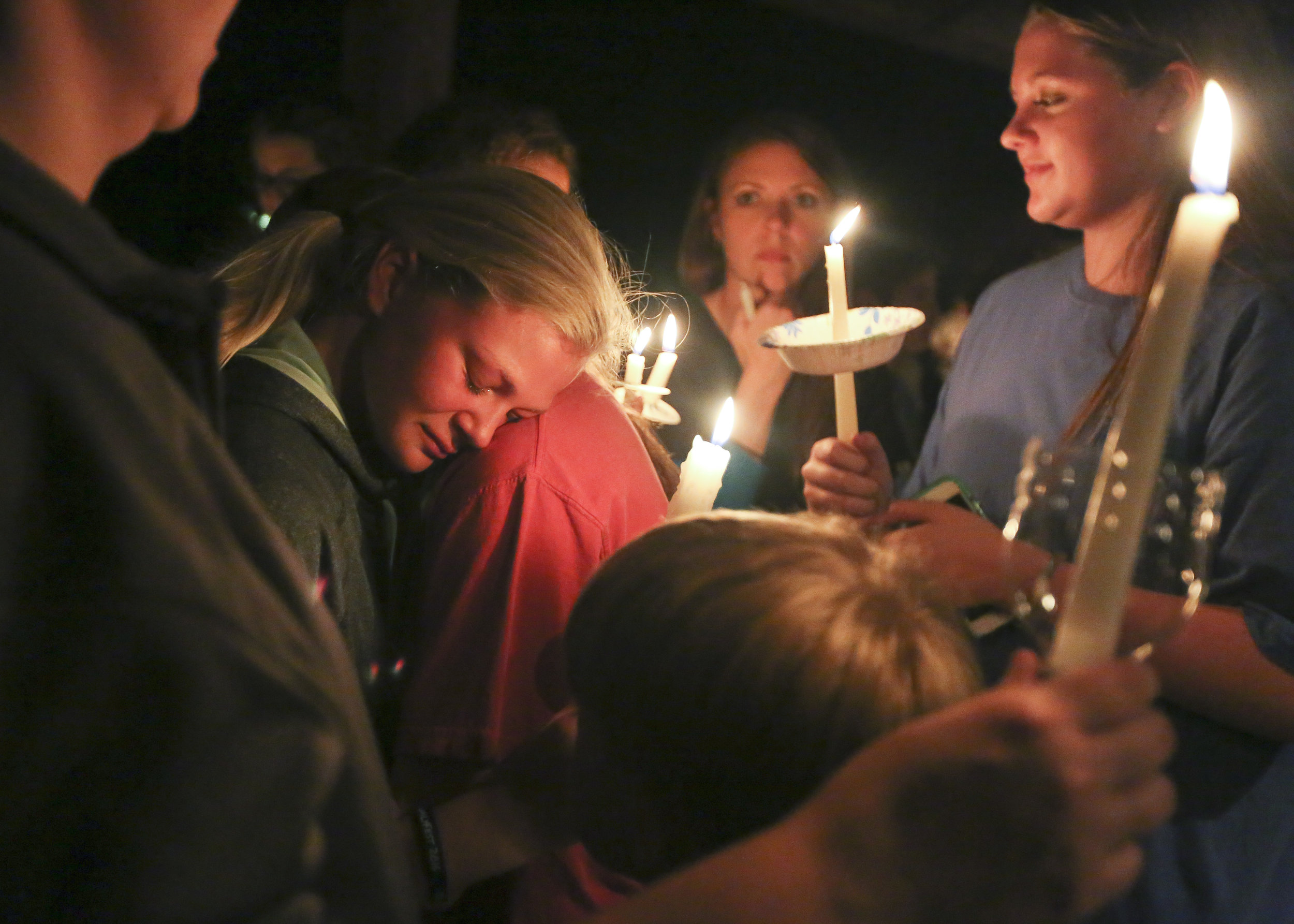 Brynna Stepp, left, is comforted by a friend during a candlelight vigil at Sparkman Park in Hartselle, Alabama. The vigil honored several Morgan County teenagers who died over the span of a few months.
A man kayaks during a tornado warning on the Tennessee River in Decatur, Alabama.
A group of boys play basketball after they were released early from school because of a tornado warning in the northwest neighborhood of Decatur, Ala.
A protestor jumps into a fountain during an anti-fracking protest in Washington, D.C.
Surfers make their way into the waves in Kennebunkport, Maine over Labor Day weekend.
Kim Florey, left, and Derrick Smith, right, sing along during the Reverend Peyton's Big Damn Band's performance at the 22nd Kalamazoo Blues Festival at Arcadia Creek Festival Place in Kalamazoo, Michigan. The three-day celebration of blues music and culture is one of the longest-running festivals in Kalamazoo. Florey drove three hours to see the band.
Sandra Omar bathes her standard poodles, from left, Pumba, Rex, Max, and Timon at the Morgan County Fairgrounds in Decatur, Alabama.
John Griese, of Vero Beach, paddles on the shoreline as the sun sets over Jupiter Beach, Florida.
DSR farms owner Jessica Murphy carries buckets of chicken feed in Danville, Ala.
Monty Hutchinson, left, and Benjamin David Hutchison, right, wed at the County Courthouse in Cassopolis, Michigan. Benjamin David Hutchison, an openly gay Southwest Michigan pastor, was forced to resign from the United Methodist Church because he had a partner.
Over one thousand people launch Chinese lanterns into the sky at Kalamazoo Speedway in Kalamazoo, Michigan.
Steve Baker braves the waves during a storm along Lake Michigan in Saint Joseph.
Actor Holden Lance, 11, takes a moment to rest between scenes of "The Ballad of Jessica James" during the Kindleberger Summer Festival at Kindleberger Park in Parchment, Michigan.
A pocket of blue sky appears above a cornfield as a storm lingers in Decatur, Ala.
Ballerinas rehearse the snow scene for their upcoming performance of "The Nutcracker" at Dancers Incorporated's studio in Decatur, Ala., on December 5, 2016.
Angelene Dodd comforts her son Noel during Nehemiah Dodd's balloon release. Two days after a jury found Brian Keith Roberts, 41, guilty of felony murder, second-degree murder and first-degree child abuse in the killing of Nehemiah Dodd, Nehemiah's family and friends gather to celebrate his memory at Riverside Cemetery in Kalamazoo, Michigan.